Our Pneumatic Compression Technology enhances circulation and oxygenation to your muscles, helping you recover faster.
Boost lymphatic drainage and flush lactic acid with the with the Gold Standard of Pneumatic Compression Technology - up to 250 mmHg (more than 2x competitors).
With just a few minutes of use, your legs will be feeling refreshed. And with our added portability and industry leading battery life, you can now take your recovery wherever you go. The options are truly infinite.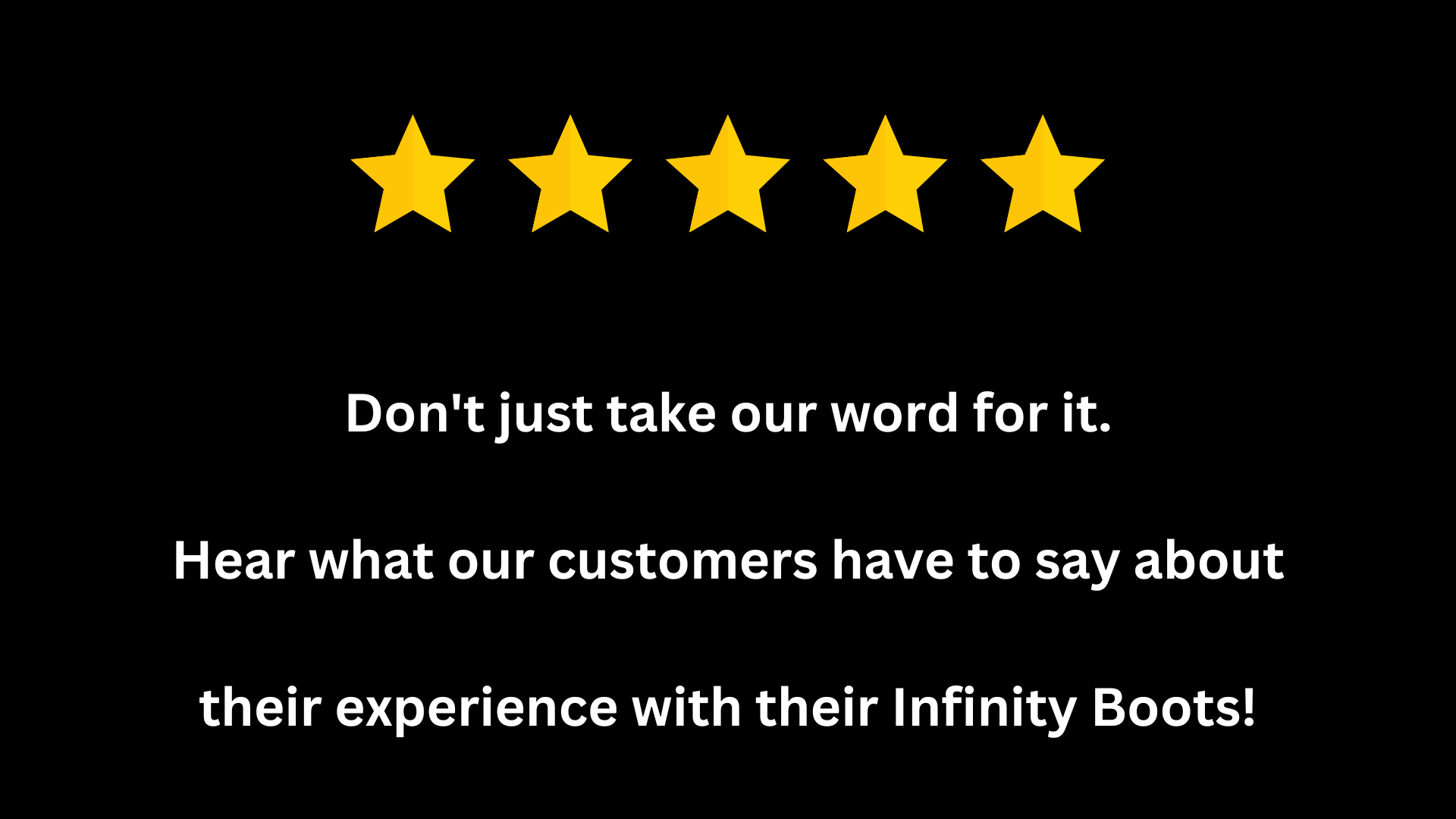 "I've been using the Kingsfield Infinity boots for a few weeks now and they have made a huge difference in my recovery after tough workouts. Not only do they help reduce soreness and inflammation, but they also feel incredibly relaxing and comfortable to wear. I highly recommend these boots to anyone looking to speed up their recovery time."
John, Texas
"I have struggled with muscle tightness and stiffness for years, but the Kingsfield Infinity boots have been a game-changer for me. After using them regularly, I've noticed a significant improvement in my flexibility and mobility. These boots are truly a lifesaver!"
Mike, New York
"I suffer from chronic pain due to a previous injury, and the Kingsfield Infinity boots have been a lifesaver for me. They help reduce inflammation and promote circulation, which has led to a significant reduction in my pain levels. These boots are worth every penny and I would recommend them to anyone looking for natural pain relief."
Lauren, Florida
Frequently Asked Questions
What is the main difference between the Infinity Boots and the Compression Boots?
Both products are proven to provide benefits to your recovery. The main difference is the Infinity Boots are portable and the Compression boots require to be plugged into an outlet during use.
The Infinity Boots come with a base unit that has an industry leading battery life - up to 3 hours of continued use on a single charge.
The Infinity Boots also have 2 more modes, 2 additional chambers for enhanced muscle group targeting, and additional settings to customize your recovery session.
For most, our Compression Boots will get the job done. As long as you are near an outlet you will be able to use and enjoy recovery. For those who want the full recovery experience, plus added portability, these Infinity Boots are for you!
What size is best for me?
Our Large size fits anyone from 5'4" to 5'11" Our Extra Large size fits anyone 6'0"-6'6".
How often can I use these Boots?
Kingsfield Infinity Boots for recovery are designed for multiple uses a day. You may use before and after your training sessions. Consult your physician on treatment protocols best suited for your medical needs. 
Which compression setting is best for me? 
It is a matter of personal preference. Even though the lowest pressure setting provides benefit, the pressure setting is up to the user. It is recommended to start at the low end and work your way up as needed.